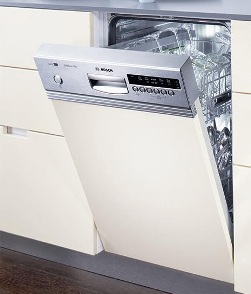 So tell me why your Bosch Dishwasher needs to be Fixed… Ever heard that one? No surprise if you haven't, Bosch Dishwashers are true quality and made to withstand many wash cycles. However as is true with all mechanical appliances, they cannot last forever. Here are a few of the more common problems Bosch Dishwashers may experience and some helpful tips to fix them.
My Bosch Dishwasher leaves food remains after wash cycle
Not a big deal! The likely cause is that your filter is clogged. The filter is located at the bottom of the Bosch Dishwasher. To fix it, all you have to do is pull it out and clean it off. No special tools needed and no Specialized Bosch Dishwasher knowledge required. But if you're still having trouble, give us a call and we will sort it out quickly and smoothely.
My Bosch Dishwasher Makes noise when it drains
This can get a little messy. The problem is either with your drain hose or your drain pump. The hose starts at the bottom and is fairly easy to replace, the drain pump however is not. If you want to replace the drain pump yourself, you will need a schematic of the Bosch Dishwasher to know how to get around the specialized parts in order to remove the drain pump. If you are particularly handy and don't mind getting a little dirty, this is medium difficulty job that does not require special Bosch Dishwasher tools. But we understand if you need us to help you out. We're a short phone call away.
My Bosch Dishwasher Stopped working and refuses to start
Well, this one makes me scratch my head. If there is absolutely no power to it and you've tested the circuit-breakers in your house and you are absolutely sure that the fix is isolated to your Bosch Dishwasher, then the problem is likely with the wiring in your junction box. The junction box is located behind the kick plate in the access panel at the bottom. Visually inspect the wiring connections and make sure everything is hooked up properly. Bosch Dishwashers are some of the best in the business but the constant heating up and cooling down cycles not to mention vibrations from the natural use of the dishwasher may cause the wiring in Bosh Dishwasher to separate. But if the problem gets too complex, call our friendly dispatcher and we will gladly send a trained specialist to handle the problem for you.
December 29, 2020
Categories: